Nordlys is the Danish & Norwegian word for the Northern Lights. Given our Northern location and our family's Scandinavian heritage, the name suits us well. While it is possible to glimpse the Aurora Borealis at times, guests are more likely to experience our "northern light" in the glow of the campfire, the glimpse of a firefly, or in the reflection of the sunrise on our lake.
The Nordlys story began in the late 1980's with the purchase of a small family cabin on nearby Wood Lake. Over the following thirty-five years our family developed a deep appreciation for the land, waters, animals and residents of Northern Wisconsin. As we approached retirement, we looked for ways to share this wonderful place with others, and thought, "How better than to build a place to visit?" We wanted to create a space where people could retreat and take a break from their busy lives, a place where people could reconnect with what is most important to them, and a place that benefits its local community.
They say, "all things come to those who wait", and after a nearly two-year search, we found 140 magical acres of rolling meadows, sun-speckled woods, and sparkling waters. It was perfect. All it needed was some cabins.
We partnered with Minneapolis-based architect David Wagner of SALA Architects to design a pair of cabins that would allow guests to bask in the natural beauty of the Wisconsin wilderness and to enjoy it year round. He created two distinct cabins that immerse their guests in their natural surroundings, while also offering every comfort and luxury.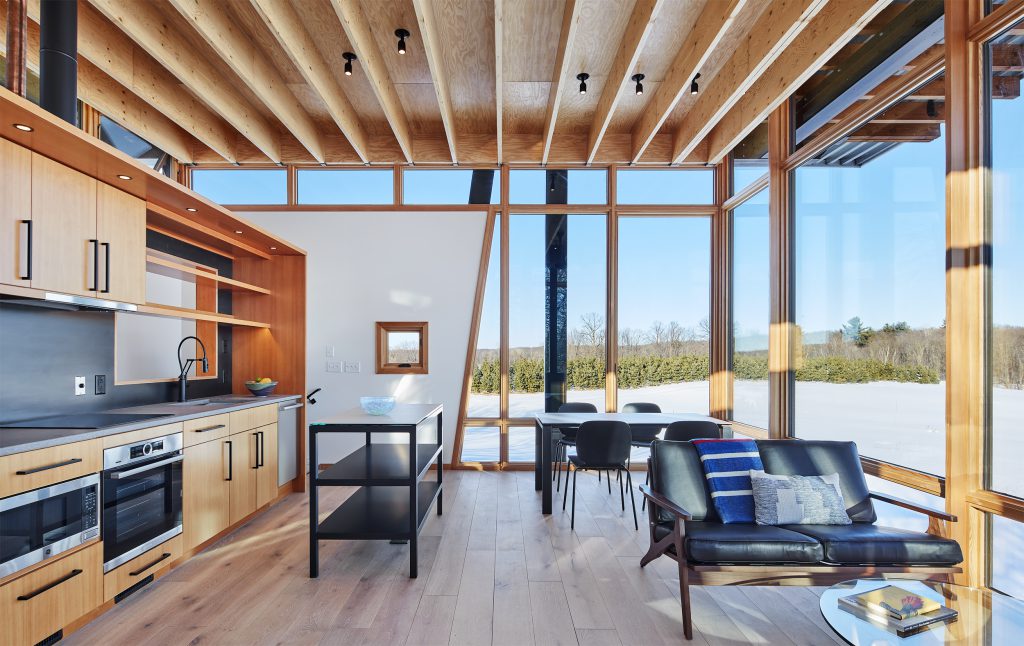 Our cabins embrace modern Scandinavian simplicity. Floor to ceiling glass brings nature indoors. Our chef-grade kitchens delight any cook, and our top-end furnishings and organic linens provide guests with an ideal environment to retreat and relax. We continue to form new partnerships with local companies to provide a unique experience and products for our guests. Meanwhile, we want to preserve the beauty of our land for generations to come, so we try to make sustainable choices whenever possible.
Experience each season's unique beauty: Amble through midsummer meadows, hike autumn-hued woods, or bask in the stillness of fresh winter snow. Whether your idea of adventure is biking to a state park, snowshoeing around the pond, or just reading a book and sipping coffee by the fire, you'll find it here. Come visit Nordlys. Relax, reconnect and recharge. Experience the many lights of the North when you stay with us.